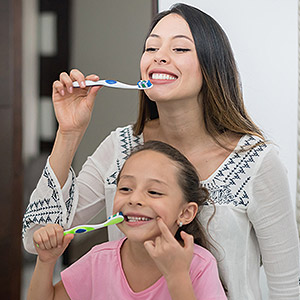 What's a habit? Basically, it's a behavior you consistently perform without much forethought—you seemingly do it automatically. They can be good (taking a bath every day); or, they can be bad (devouring an entire bag of chocolate chip cookies every day). Our goal, therefore, should be to develop more good habits than bad.
One other thing about habits: we start forming them early. You might even have habits as an adult that began before you could walk. Which is why helping children develop good habits and avoid bad ones remains a top priority for parents.
Good habits also play a major role in keeping your teeth and gums healthy. Habits like the following that your kids form—or don't form—could pay oral health dividends throughout their lives.
Daily hygiene. Brushing and flossing is the single best habit for ensuring healthy teeth and gums. Removing disease-causing plaque on a daily basis drastically reduces a person's risk for tooth decay and gum disease. So, start forming this one as early as possible—you can even make a game of it!
Dental-friendly eating. To paraphrase a popular saying, "Your teeth and gums are what you eat." Dairy, vegetables and other whole foods promote good dental health, while processed foods heavy on sugar contribute to dental disease. Steer your child toward a lifetime of good food choices, especially by setting a good example.
Late thumb-sucking. It's a nearly universal habit among infants and toddlers to suck their thumbs or fingers. Early on, it doesn't pose much of a threat—but if it extends into later childhood, it could lead to poor bite formation. It's best to encourage your child to stop sucking their thumbs, fingers or pacifiers by age 3.
Later-developing bad habits. Children often come into their own socially by the time they've entered puberty. But while this is a welcome development on the road to adulthood, the pressure from peers may lead them to develop habits not conducive to good oral health—tobacco, drug or alcohol use, or oral piercings. Exert your influence as a parent to help them avoid these bad oral habits.
If you would like more information on best dental care practices for children, please contact us or schedule an appointment for a consultation. You can also learn more about this topic by reading the Dear Doctor magazine article "How to Help Your Child Develop the Best Habits for Oral Health."