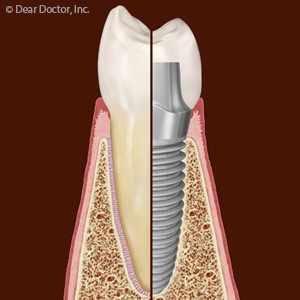 If you're thinking about getting dental implants, you're in good company. Dentists have placed more than 3 million of these popular devices since their introduction in the early 1980s.
But if you have multiple missing teeth, you might think the cost of all those individual implants could put them out of your league. Yes, replacing multiple teeth with individual implants can be quite expensive—but implant technology isn't limited to one tooth at a time. A few well-placed implants can impart their proven durability and stability to other types of restorations.
For example, we can incorporate implants into a bridge for a series of missing teeth. Conventional bridges are normally fixed in place by altering and then crowning natural teeth on each side of the missing teeth gap with a fixed row of prosthetic (false) teeth in the middle to fill it. Instead, two implants placed at the ends of the gap can support the bridge rather than natural teeth. This not only provides greater stability for the bridge, it also avoids permanent altering the natural teeth that would have been used.
Implants can also support a fixed bridge to restore complete tooth loss on a jaw. The new bridge is attached to a few strategically placed implants along the jaw line to equally distribute biting forces. This can result in a strong hold with excellent durability.
We can also use implants to improve traditional dentures. Dentures normally rest directly on the gums' bony ridges, depending on a snug fit for stability. But bone loss, a natural consequence of missing teeth, can still occur while wearing dentures, which may in fact accelerate the rate of loss due to the appliance's constant pressure and friction against the gums.
Instead, just a few implants placed along the jaw can, with attachments built into the denture, hold it securely in place. This not only decreases the pressure on the gums, but the natural bone growth that occurs around the implant may even deter bone loss.
Depending on your situation, there could be a viable restoration solution involving implants. Visit our office for a complete examination and evaluation to see if implants could help change your smile forever.
If you would like more information on implant restorations, please contact us or schedule an appointment for a consultation. You can also learn more about this topic by reading the Dear Doctor magazine article "Dental Implants 101: the Most Significant Innovation in the Past Century."