Brookside Dental Care - Stockton, CA
Thank you for visiting Brookside Dental Care, your experienced dentists in Stockton. Exceptional patient care, state-of-the-art equipment and a complete range of dental services-that's why our practice is recognized as one of the most professional and compassionate dental practices in Stockton.
Serving patients in Stockton is the foundation of our practice. By staying abreast of the latest dental technologies and procedures, Brookside Dental Care can provide the most advanced, personalized dental care for you and your family. You'll feel at ease with our friendly staff, caring Stockton dentists and comfortable office setting.
This website has been specifically designed to familiarize you with our staff and office procedures here at Brookside Dental Care. Check out our Dental Implants and complete list of services, such as Implant Dentistry, Denture Implants,Invisalign, Sedation Dentistry, or Preventive Dentistry. Or, browse our educational patient library, find directions to our Stockton office or even request an appointment.
NEW PATIENTS ARE ALWAYS WELCOME. Our Stockton dentists look forward to meeting you and being your lifelong partner in dental health.
REPLACEMENT OF MISSING AND FAILING TEETH WITH DENTAL IMPLANTS IS OUR UNIQUE EXPERTISE
Whether you are missing a single tooth or your entire dentition, dental implants can be a great solution to restore your smile and dental health. Our Board Certified Implant Specialist is exceptionally trained in all aspects of Oral Implantology. With thousands of implant cases completed we have the confidence to offer you the very best in Implant Dentistry.
Click here to Take a Tour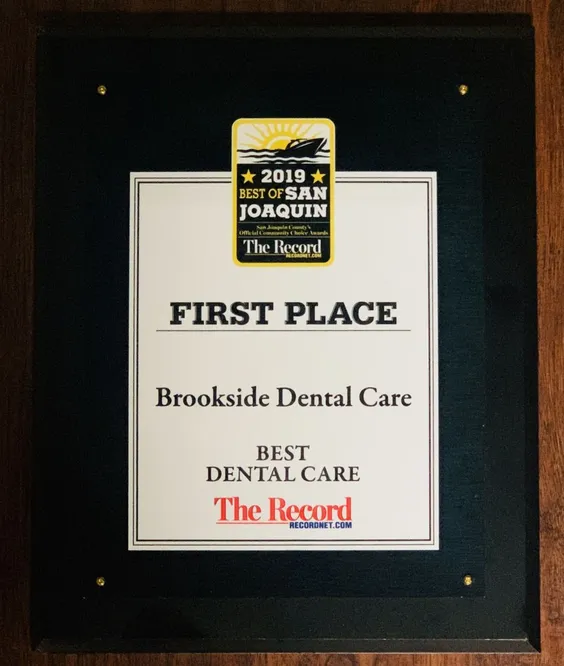 "Voted Best Dental care of San Joaquin 2019"